The Life of Jackie Robinson
Baseball Years
After Robinson left the Army, he joined the Kansas City Monarchs. The Monarchs were a team in the American Negro League. In that same year, Robinson was offered to sign a contract with the Montreal Royals, a farm team of the Brooklyn Dodgers. Happy Chandler, the Baseball Commissioner, had a lot to do with wanting African American players in the major leagues. He is quoted saying "If they [African-Americans] can fight and die on Okinawa, Guadalcanal and in the South Pacific, they can play ball in America." Branch Rickey, the Dodger's General Manager, felt the same way. Rickey wanted Robinson on his team because he was a great baseball player. After a long interview, Rickey came to the conclusion that Robinson was mature enough not to fight back against racial torments.
Brooklyn Dodgers, 1947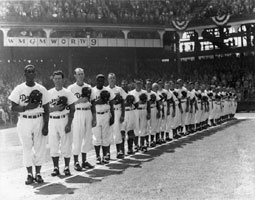 At the start of the 1947 season, Robinson was officially a Brooklyn Dodger player. Sometimes Robinson and his team were denied the right to play because of stadium rules of non-integrated sports and Robinson was often taunted. Even some of his teammates didn't talk with him because of his skin color. Robinson said "I had to deny my true fighting spirit so that the 'noble experiment' could succeed, but I never cared about acceptance as much as I cared about respect." There were tons of racial torment but Robinson took it well. As noted by Hank Aaron, "Jackie Robinson had to be bigger than life. He had to be bigger than the Brooklyn teammates who got up a petition to keep him off the ball club, bigger than the pitchers who threw at him or the base runners who dug their spikes into his shin, bigger than the bench jockeys who hollered for him to carry their bags and shine their shoes, bigger than the so-called fans who mocked him with mops on their heads and wrote him death threats." Eventually Robinson's teammates valued him enough to stand with him against his tormentors.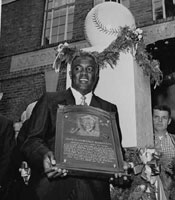 Robinson inducted
into Hall of Fame
Despite all that, Robinson had a successful career with many accomplishments. He won Rookie of the Year, Most Valuable Player Award, and won a World Series. He also led the league in stolen bases and had an amazing lifetime batting average of .311. After ten years of playing baseball, Robinson retired in 1956. Robinson's accomplishments were recognized when he was inducted into the Baseball Hall of Fame in 1962.