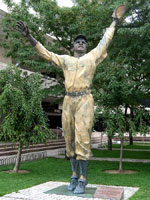 Jackie Robinson statue
Jackie Roosevelt Robinson dedicated his life to Civil Rights. He inspired millions when he broke the chains of integrated baseball. We should remember this great man for his Major League play and for his work to give all people the freedom they deserve.
After Robinson broke the color barrier in baseball, the other sports soon followed. The color barrier also started to break in more than just sports. There were more job opportunities, voting, places in local government and eventually federal government. All over the country people began to accept African Americans doing all things in life. Robinson proved that what could be done in baseball could be done everywhere.
An article in Newsday, notes Robinson's "ripple effect so manifest, beyond sports…that I think the Obama campaign is linked to Jackie…both men finding enormous appeal among younger people not yet locked into old societal limitations".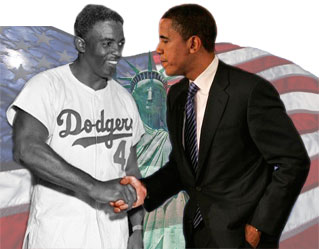 Today, there are black men and women in more positions of authority than ever before. In sports they are managers and coaches. In business they are bosses and owners. In the military they are generals and admirals. And in politics, they are Supreme Court Judges, Secretary of State, Senators and Congressmen.
Recently, our country achieved its biggest milestone in the advancement of Civil Rights. Sixty-one years after Robinson made history, we have finally elected a black man, Barack Obama, to represent all Americans as President of the United States.